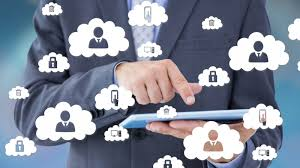 It can be daunting to select a new HR solution from the many options available on the market. Many HR managers need a way to sort through the choices to identify the best solution for their needs. So, how can you make the right choice when you're surrounded by HR systems that sound the same?
Differentiating between strategic tools designed to streamline HR tasks can be a difficult and cumbersome burden. It may even seem impossible to determine which HCM solution can deliver better insights and a better experience for your entire workforce. Functions that meet your specific requirements are necessary, but each system addresses your core needs differently. So it is important to have a list of your organization's needs to expedite the process.
When evaluating solutions, you should make sure to search for a partner you can trust and who fully understands your unique business needs. But, how can you tell whether an HCM vendor is the right strategic partner for your company? You want to choose a vendor who has both the technical capability to support you and is focused on customer success. Basically, you want a vendor who sees your success as their success.
THE PLATFORM
Innovation features within any HCM system are only as good as the platform that they're built on. If investing in old technology doesn't appeal to you, then you'll want a unified cloud HCM solution.
With a cloud delivery platform, the application will be accessible through the internet. Customers can license the software and support the want without installing or maintaining any hardware or software. The HR solution you choose should be built so new capabilities are rolled out to existing customers on a periodic basis, and new features are automatically added to existing subscriptions. Although updates are frequent, they're faster and effortless, ensuring stability and minimizing disruptions. SaaS apps allow customers to tailor business procedures and adapt the system to meet the company's needs without changing the data structure or rewriting code.
An equally important component of the platform is whether or not it is unified. A unified platform is defined as a single application for HR, payroll, time, talent, and benefits. Research has shown that attempting to maintain multiple, separate sources of employee information results in data inconsistency and increased administrative work. A unified HCM platform allows you to store and track employee data in one paperless system to make your processes faster and easier. A single database for your entire workforce provides you with immediate access to functions and tools to help streamline processes and increase employee productivity and engagement.
If the solution offers a single employee record shared across all applications, your company will only need to enter employee information once and it will automatically populate every application in the suite; this saves time, reduces entry errors, and streamlines reporting. It is best to ensure that the platform you're considering offers single reporting tools and the data is updated in real time, so managers can make decisions based on the latest and most accurate information.
THE BENEFITS
The application you select to manage your workforce can either damage or strengthen the employee experience delivered by your organization. While functionality and industry expertise will win over some of the more tech-savvy employees, many features will be pointless if they're not intuitive and easy to use. Powerful analytics and reporting capabilities will help managers make better decisions, but only if the data is consistently accurate and easy to understand.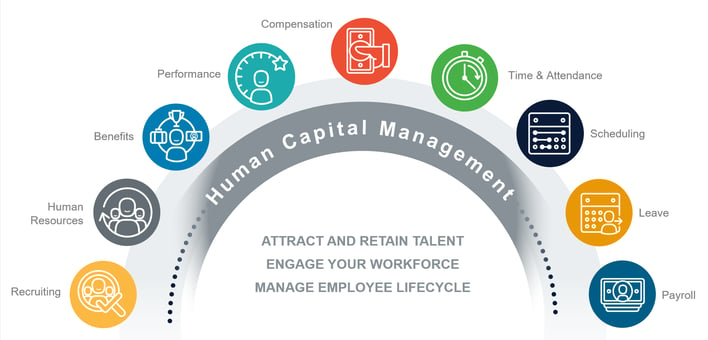 The right HCM solution will be designed to delight and engage the modern workforce. It should offer a responsive, intuitive user interface for every stage of employment, from pre-hire to retire. With intuitive self-service tools, employees and managers easily address common HR, time keeping, and payroll tasks from their desktops or mobile device. Your solution should include configurable dashboards, ad hoc reports, and decision-support tools that provide visibility and insights throughout your business. Intuitive navigation features help employees and managers alike find critical information quickly and easily, and accomplish common tasks in as few steps as possible from any device. Being able to perform routine tasks like address changes, requesting time off, or trading shifts from anywhere significantly impacts the employee experience. When employees have ownership their engagement is higher; self-service tools empower employees, streamline processes, and give managers more to focus on employee development and satisfaction.
Another benefit your solution should provide is the ability to tailor tools and reports to reflect the way your company does business. It is vital that you should be able to customize reports to meet your content and formatting requirements, without involving the vendor for every little change. You will also want to give your managers visibility into important employee information and empower employees to access their information through convenient self-service and mobile tools. Your frontline managers and executives need to make decisions based on accurate, real-time data, but if they can't tap into their data sources, decisions will still be a guessing game. The solution you choose should deliver the data needed to make decisions, conveniently packaged in a format that clearly helps them do that.
The HR solution you choose is a critical step towards boosting your company's success. You want to choose a partner with technology that is designed to meet your present and future needs, has the technical expertise to support you beyond just implementation, and is focused on customer success. Your partner should comprehend the specific requirements of both your industry and your business. By supplying you with a single, unified platform that embraces the needs of your entire workforce, your partner gives you access to real-time employee data to help drive productivity, employee engagement, and to help you make better informed decisions for better business outcomes.