Many companies use multiple HR systems or rely on spreadsheets in order to reconcile different sources of data. This leaves you with no single source of truth for employee data, which causes administrative and procedural issues, limited visibility, and inaccuracies. With paychecks and multiple levels of compliance at risk, it is essential for Payroll data to remain transparent and correct. So, how can your organization's Payroll system evolve to run at its smoothest? Easy, an HCM solution!
You can simplify your entire payroll process while ensuring accuracy and minimizing compliance risk. Our Payroll module in the unified, cloud-based Workforce Ready suite, calculates payroll in real time so it's ready for you to view at any time. With complete automation, Payroll processing is streamlined to alleviate inconsistencies and ease administrative burdens. This real-time reporting allows your team to analyze Payroll activity and trends, verify benchmarks, and aid regulatory compliance. The easy-to-use Payroll solution provides you with automated tools and high-quality information needed to help control labor costs, minimize compliance risk, and improve your overall workforce productivity.
Our Payroll module offers flexible pay rules that make it simple to ascertain pay associated with regular, overtime, or other pay types. It optimizes your process by supporting any number of scenarios, shift differentials, order of importance, location, and more, to accommodate your business requirements. You can import employee hours or synchronize with Workforce Ready Time Keeping to run as many reports as you need, such as Payroll Register, Labor Distribution, General Ledger, and more, before you finalize and submit Payroll. The system will also send out alerts throughout the process to flag issues and reduce errors. Our solution offers checklist-based payroll processing, including scheduled alerts for future impacting changes, like earning a referral bonus after someone's with the company for 90 days. Your Payroll team will have access to an unlimited amount of customizable earnings & deduction codes, benefits deductions, and scheduled earnings, such as stipends. With so much control over Payroll and the elimination of guesswork, your business can process an accurate Payroll the first time every single time.
Get the information and insight you need. All of your payroll data is readily available through intuitive, highly configurable standard and ad-hoc reporting. Our built-in tools simplify the process of modifying standard reports and sorting, grouping, filtering, or customizing report content for any time period. Your customizable pay statement templates can be assigned according to company rules on how to handle taxes, deductions, etc. The Payroll Recap & Funding report provides you with an at-a-glance summary of total payroll liability, a comparison of this period's total payroll to the previous period's, as well as a rolling 12-month view of trending total labor and expense changes. These reports help ensure the calculation of the perfect paycheck, while offering valuable insights for next year's budget planning.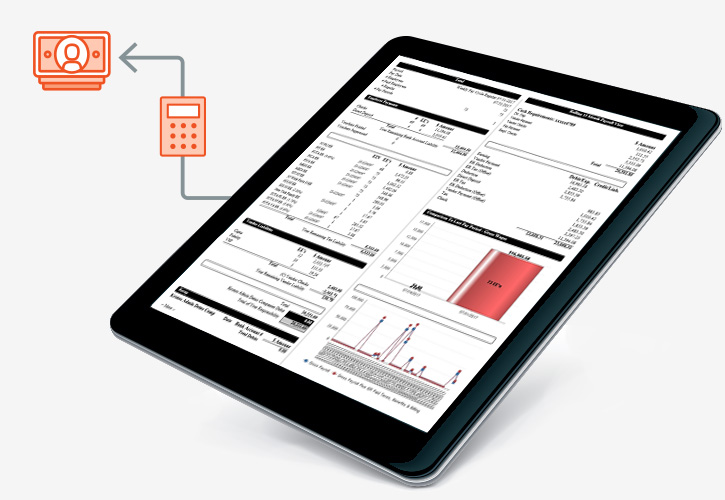 Employees have on-demand access to their payroll information, from pay stubs to earning histories, through a user-friendly mobile app and online self-service tools. Our self-service tools allow employees to change direct deposit details, update their W-4 forms, and even print W-2 forms. With these tools in hand, employees are empowered to find and update their information on their own, so overworked Payroll administrators can focus on other tasks.
There is much more to Payroll than making sure that everyone gets paid, albeit that is a very crucial piece. And once your Payroll process has reached maximum optimization, your Payroll team will have more time to focus on these other tasks such as business strategies and nurturing your workforce.