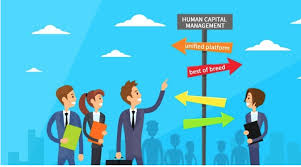 As the workforce becomes more and more connected, organizations are searching for new vendors that understand their business and its needs. As you search for the right solution, the question of unified or integrated inevitably pops up. It's crucial for payroll professionals to understand the difference between the two and how they each significantly impact the payroll process.
Unified: A unified human capital management (HCM) solution is developed by one vendor and has a single employee record, database, and codebase which provides payroll, HR, and workforce management services. An all-in-one solution.
Integrated: An integrated HCM solution that has been developed by multiple vendors that contain multiple employee records, databases, and codebases to provide payroll, HR, and workforce management capabilities. These separate modules are commonly connected by APIs, file transfers, and other methods of transferring data.
Now that we have defined these terms, we will discuss the differences between them and how they impact payroll.
USER EXPERIENCE
The user experience and user interface (UI) are the part of the system that employees, managers, and HR and payroll administrators interact with on a daily basis. The ease of use encourages employee engagement and satisfaction when performing their HR-related tasks.
In a unified platform, the UI is developed to streamline the experience by providing easy navigation and clear paths to perform tasks or locate information. As UI expectations change over time, unified platforms roll out updates to stay current with HCM market trends and requirements.
When it comes to the UI, there are two different approaches for integrated HCM systems. The first is having everything controlled from one place that doesn't fully align with terminology and function across the system. This typically happens when multiple stand alone systems are pieced together. The other approach is an integrated solution that is pieced together in the background with a streamlined UI programmed to control it. While this second approach provides a similar experience, it still has many of the limitations of the first.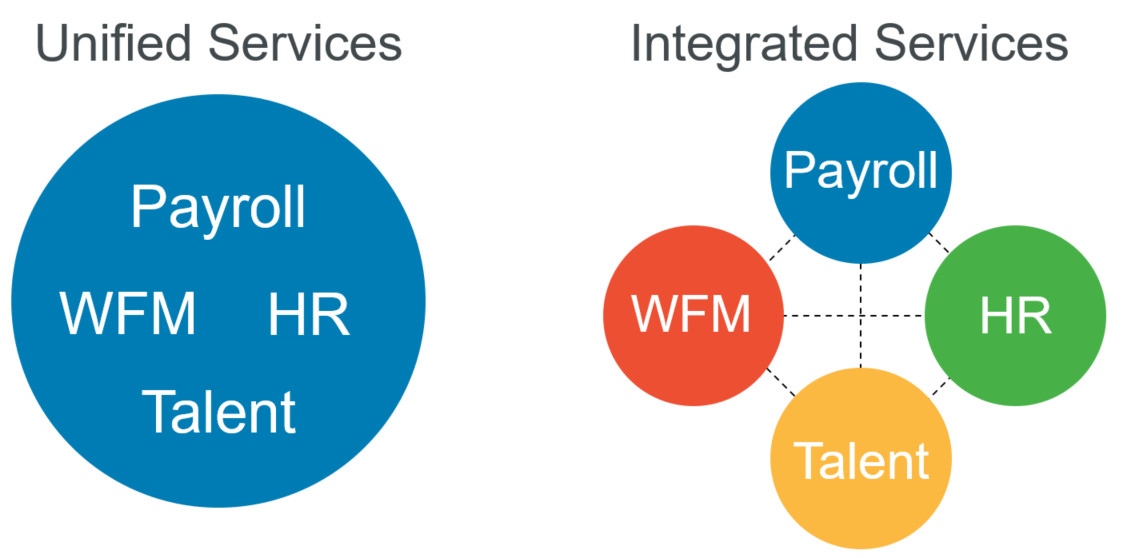 COMPREHENSIVE REPORTING
Your organization's ability to comprehensively report and analyze data is critical to strategy and business operations, including accurate payroll processing. Lacking easy access to detailed information, payroll professionals can spend long hours searching for accurate data, merging multiple spreadsheets, or correcting errors in reports.
With a unified system, your team has the power to create customized reports in minutes, instead of days. When all payroll, HR, workforce, and talent data is easily accessible in one place, payroll teams no longer need to worry about pulling reports from timekeeping, then pulling a report from payroll, and combining them in order to analyze them properly.
With an integrated solution, many data points may be available in the payroll system, while others are only available in separate timekeeping or HR systems. This makes reporting across different areas difficult and lacks the comprehensive data points that payroll needs to audit and review data easily. In integrated systems with one consolidated UI, there is typically a library of standardized reports with predefined data points that often do not cross the different integrated systems from the background. This results in manual report compilation or waiting for the HCM vendor to create a customized report that could take weeks to receive and cost additional service fees.
REDUCING ERRORS
Minimizing errors is a top priority for payroll teams, so having a system that can consistently deliver accurate and compliant payroll every time is crucial. The ability to effectively reduce payroll errors is directly related to how a system ensures data integrity.
A unified system has a unified database that is easy to set up and manage. Payroll automatically updates its information whenever an employee is added to the system, updates their information, or clocks in or out. This ensures that payroll always has the most up to date and accurate data possible.
In an integrated payroll system, data is not updated immediately and is transferred between modules, which increases the likelihood that the data will go missing or arrive at the next module with errors. This causes payroll to waste time sifting through the transferred data to correct errors and manually input missing data.
PAYROLL EFFICIENCY
In order for payroll to gain the most efficiency from a system, it must automate as many of their processes as possible.
When using a unified system, the system updates data in real time, ensuring that reports, timecards, employee records, and other important information are always accurate. Because payroll is continuously updated and calculated, payroll teams can review and audit pay data at any point during the pay cycle.
Conversely, the data contained within an integrated system must wait to sync across other modules. In some cases, there are delays from the time a change is made to the time when the change is reflected in your payroll data. In other systems, payroll must be manually synced when changes have been made or users need to manually reenter the data in multiple places.
When payroll teams are looking to update their current system, most prefer unified solutions. Now, that you understand the differences of the two systems and the impacts they can have on your company, you can make an informed decision on what is best for your organization. Click here to learn more about finding the right HCM partner for you.